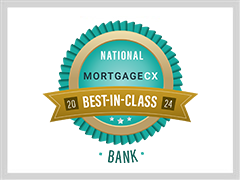 Best-In-Class Mortgage Lender - 2022
HomeStreet Bank is ranked #1 nationally in seven customer satisfaction survey categories based on the 2022 STRATMOR Group's MortgageCX Borrower Satisfaction Program. The categories include: Overall Borrower Satisfaction, Net Promoter Score, Likelihood to Use Again, Loan Officer, Processor, Application Process, Products and Costs. Learn More
Mortgage expertise you can bank on
You could get a mortgage from any number of financial institutions, so why choose HomeStreet Bank to finance your home? We have held firmly to one principle for nearly a century—provide excellent customer service. Our primary goal is to do right by our customers. You can witness that commitment in everything we do. Here are a few ways we put the HomeStreet difference into action:
Buyer Assistance Programs
We take extra measures to certify with local homebuyer assistance programs, allowing our clients to take advantage of program benefits that may help them buy a home more affordably.
Streamlined Underwriting
Thanks to a strong relationship with Fannie Mae and Freddie Mac, we are able to approve many types of home loans more quickly than some lenders.
Small Bank Accessibility
Once your loan application is submitted, many large lenders take the process completely out of the Loan Officer's hands. At HomeStreet, our Loan Officers can work with our in-house loan processors along the way to provide answers and information, helping to get your loan finalized more easily.
Large Bank Options
HomeStreet can offer the same kinds of home loans as larger lenders, yet our Loan Officers take the time to get to know you, presenting options and explaining their benefits and differences, allowing you to make an informed choice that fits your unique situation.
Your entire lending experience should be a positive one. You can count on a HomeStreet Loan Officer to guide you through the entire process, help you find the right financing options, and provide you access to affordable home loans.
Contact one of our experienced professionals today to learn more!
You can call our Mortgage Lending Customer Service Center at 855-585-2778 from 9:00 a.m. to 5:00 p.m. PST Monday-Friday to reach a Loan Officer.
Whether you're buying your first home, moving up or refinancing, we have a program for you. Our local decision-making and underwriting help streamline the process.
Some home buyers, particularly those making their first home purchase, lack a large down payment. See an overview of some of our home loan programs for borrowers who need to put a minimum amount down on their new home.
Thank you for being a HomeStreet Bank Loan customer! Existing customers can access their loan by clicking Continue below.
We'll answer some common questions.
All loans subject to approval.