Where can I find my routing and account numbers?
Knowing how to differentiate these numbers is useful for setting up things like direct deposit and automatic payments for monthly bills. Discover the differences between routing numbers, account numbers and check numbers below.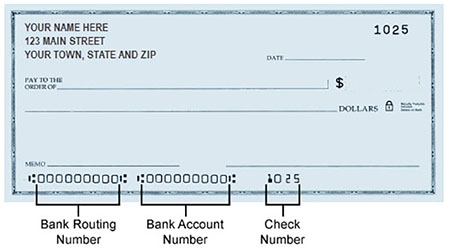 Routing number
The routing number for checking accounts is printed on checks. It's the 9-digit number on the bottom, located on the far left.

HomeStreet Bank's routing number is 325084426.
Account number
There are a few ways you can find your account number.
Look at a check. Your account number (usually 10 digits) is specific to your personal account. It's the second set of numbers printed on the bottom of your checks, just to the right of the bank routing number.
If you don't have your checkbook handy, don't worry. If you have recently written a check that has posted to your account you can:

Sign into online banking.
Select your account.
Within the Posted Transactions section of the Account Activity page, locate a recently posted check and click on the camera icon next to the check number.
View an image of the check to obtain your account number.


You could also look at your statement. Your full account number is located on your online or paper statement. To find your full account number on an online statement:

Sign into online banking.
Click on Accounts in the top bar, then Online Documents.
Click on the Last Statement link for the account. The full account number can be viewed on the top right corner of your statement, directly below the date range.
Check number
Usually the last set of numbers on your check, the check number is the shortest set of numbers on a check and has no significance beyond helping you keep track of the number of checks you've written.
We're here to help.
If you still need help, or just want to talk to a real person, visit a HomeStreet Bank Branch or contact our Customer Service Center at 1-800-719-8080 (TTY/TDD 855.584.0256).