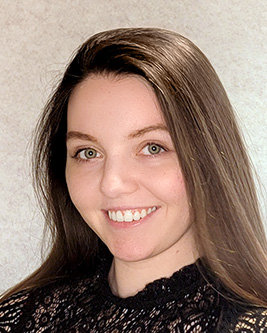 From part time to integral part of the team.
My name is Ciara Walden and I'm a Personal Banker at HomeStreet Bank. I have worked at HomeStreet for just over three years.
My journey at HomeStreet has been very rewarding. I was hired as a part time CSR, before the COVID-19 pandemic. Despite having never worked for a bank before, I quickly climbed the ranks to a CSR II and was made a full-time employee. My team threw me a party—they had confetti poppers and a letter of congratulations waiting for me when I came back from my lunch!
A year later I was promoted to a Senior CSR and have since been promoted again to Personal Banker. My time at HomeStreet has rewarded me with immense experience and the opportunity to enrich not only our clients' lives, but the communities we support.
My daily tasks involve assisting clients with their account transactions, opening accounts for consumer and business clients, and making partner referrals. I go out at least once a week and introduce myself and our bank to potential clients in our community. I absolutely love working for this bank! I love how community focused we are! I always like to say to clients, "Welcome home" or "come home to HomeStreet." It gives a nice family 'ring' to things and my clients appreciate it.
How HomeStreet prioritizes personal and professional growth.
The organization has been an integral part of my professional development. I have been given the opportunity to focus on and showcase my customer service and banking skills, allowing for swift promotions and personal growth. I have accompanied my manager to different events, which allow me to develop and practice my networking skills. The organization has two training platforms, Banking Administration Institute (BAI) and American Bankers Association (ABA), that allow me to continuously gain knowledge while earning certifications that I can use throughout my banking career. I attend monthly business development meetings that give deeper insight in how other departments of the bank operate (lending, cash management, etc.) and give me another avenue for cultivating my banking skills and knowledge.
After working at a mega grocery corporation, the thing I enjoy the most about HomeStreet Bank is the sense of team and worth. At my prior place of work, you were seen as just a number and a body, but at HomeStreet you have a name and hold an important role.
Our company culture is welcoming and inclusive. There is a strong sense of partnership, not only at the branch level but between departments as well. I have team members across a vast majority of retail branches, internal departments, and even in corporate. Part of the fun of working in a smaller office environment is getting to learn what makes each of them who they are and how each of them process and handle information. It's a fantastic opportunity to learn new skills and deepen skills you already have.
Ready to make your mark in the banking industry?
Discover personal and professional growth opportunities here.